I believe in quality and good clothes you'll look great
I'm an artist from Humenné, in the east of Slovakia. I paint acrylic and oil colors my own abstract motives. I move it through digital printing on fabric. I cooperate with experienced Slovak tailors in the production of original clothing.
My philosophy
I would love to express my attitude to people with my paintings positively and to God. I paint subconsciously for the feeling of indoor peace. Free and confidently picks color, brushes and moves. Enerently and quickly, other times slow and precisely. The essence is based on the infinite Wednesday, where after the spiral, or as a tunnel approach masses of varied shapes. I express my life with thoughts with shape. The paints on the image are like live, dancing, have their world of fantasy to come from mood. I want any color for any day. According to mood, the color will encourage or dampens. I perceive a lot of things, shapes just keep up the kick. For a year I paint 10-15 images, even if the picture is never completed, still can paint on. I paint because it fun. I will paint what I like I will only advance after such steps I determine myself. I won't paint still life, portraits, landscapes, I can take a picture. Image on your computer can be deleted and can't be caught in your hand. The image can remain years. I know what I want, a lot of things are not a coincidence … I see how much I see how to paint … Sometimes it means slow, soil themselves alone, just to express the theme. The atmosphere of perspective is sometimes enhanced by ultraviolet light, which has a sensitive fluorescence color. It is exceptional painting at night at UV light, which gives me a view to form images that will shine in the dark. The hardest is to express themselves. As I don't know, I get to know each other. Images I like to donate eg. to the birthday. With no brushes and colors I would express music. I play bass and drums. Every tone of music can be expressed by color. In the future I want to take part in a symposium where I could meet and get acquainted with other artists.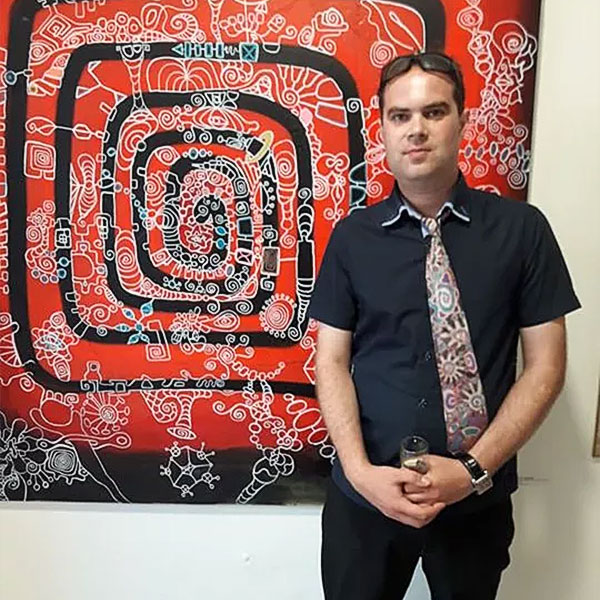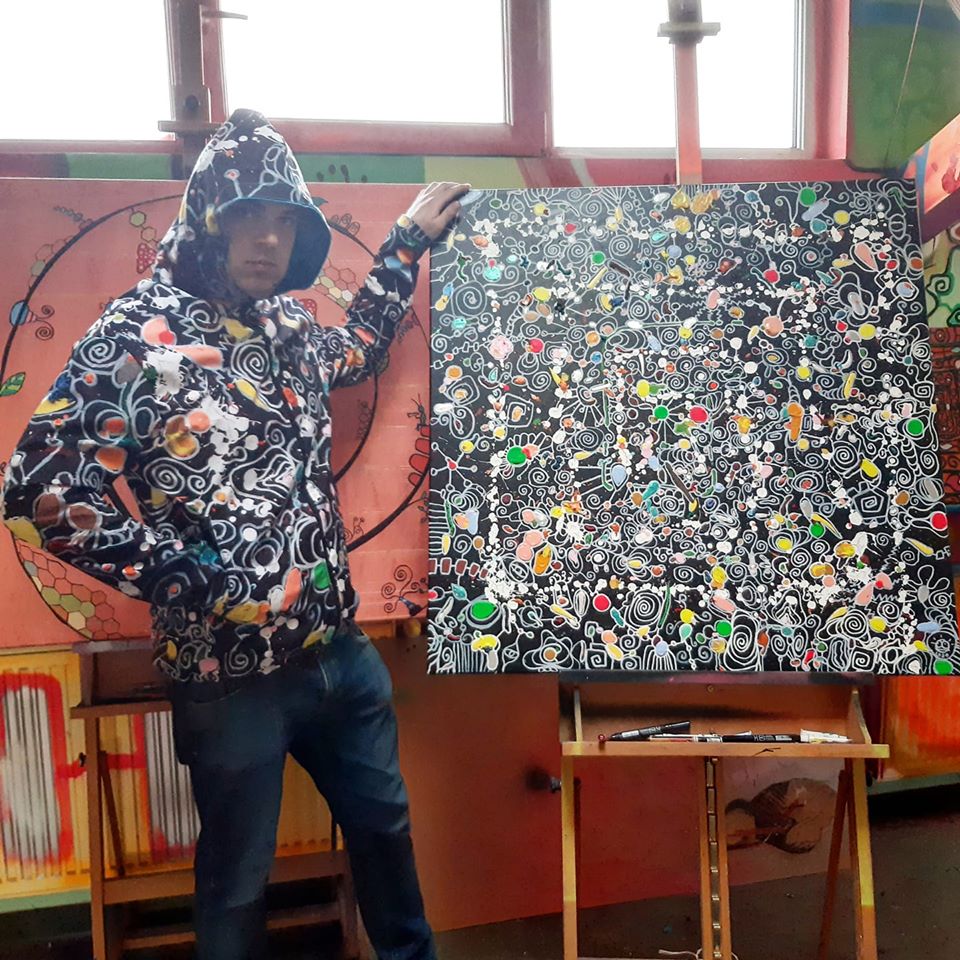 – Letavy 2005, 2006, 2007
– Výstava z  projektu POZNAJ SVOJHO SUSEDA I. Študentský tvorivý ateliér  SLOVENSKO – POĽSKO, 
jar 2005 v  Snine
– Účasť v  súťaži VÝTVARNÉ SPEKTRUM 2007 – krajské kolo
– Výstava z  projektu POZNAJ SVOJHO SUSEDA II; Študentský tvorivý ateliér SLOVENSKO – UKRAJINA
27.7-27.8 2007 v  Snine
– Prvá samostatná výstava FANTÁZIA výber obrazov 2003-2007; reštaurácia OFF ROAD v  Humennom. 14.9-15.10. 2007 
– Druhá samostatná výstava FANTÁZIA FARIEB výber obrazov 2003-2009; galéria v BARDEJOVE  15.2. 2009 
– Tretia samostatná výstava FANTÁZIA FARIEB výber obrazov 2003-2009; galéria v kulturnom 
stredisku v  Humennom. 15.4.2009 
– Účasť v  súťaži VÝTVARNÉ SPEKTRUM 2010 – čestné uznanie – obraz Biostroj (2010)
– Štvrtá samostatná výstava "NARODENINOVÁ VERNISÁŽ" ; Motorest Dvor pod Viničnou skalou 
v Brekove. 20.11.-15.12.2013
– Účasť na kolektívnej výstave Humenský výtvarný salón 5.12.2013-30.1.2014. Vystavené obrazy: Biostroj (2010) 
a Životná energia (2009).
– Účasť na kolektívnej výstave Sninský výtvarný salón 1.7.2014-30.7.2014. Vystavený obraz: Životná energia (2009).
– Účasť v  súťaži VÝTVARNÉ SPEKTRUM 2014
– Piata samostatná výstava "MôJ FAREBNÝ SVET" ; Galéria Andrej Smolák, Snina,  17.5.-30.5.2014
– Šiesta samostatná výstava "MôJ FAREBNÝ SVET" ; galéria v kulturnom stredisku v  Humennom. 20.11.-20.12.2014
– Účasť na kolektívnej výstave 2. Humenský výtvarný salón 20.12.2014-20.1.2015. Vystavený obraz: Keď sme sami (2014).
– Siedma samostatná výstava "Výber" ; Art café Verchovina. 20.11.2015-1.12.2015
– Účasť na kolektívnej výstave 3. Humenský výtvarný salón 21.10.2015-21.11.2015. Vystavený obraz: Dualita (2015).
– Účasť na kolektívnej výstave Sarospatak výtvarný salón , Sarospatak – Maďarsko 20.12.2015-20.2.2016. 
Vystavený obraz: Dualita (2015).
– 8.  výstava "WYSTAWA" ; Sanocki Dom Kultury, Sanok – Poľsko. 2.4.2016-30.4.2016
– 9.  výstava "MŮJ BAREVNÝ SVĚT" ; Galérie Zámku Poruba, Ostrava – Česko,  2.4.2016-30.4.2016
-10. výstava "DEKÁDA" ; COOP World Art Gallery – Humenné, 20.10.2016-7.1.2017
-11. výstava  UMENIE A VÍNO ; Vinný dom – U someliéra – Humenné, apríl 2018
-12. výstava  MôJ FAREBNÝ SVET ; Ateliér POPPRAT – Poprad, 12.7.- 12.8.2018